What's Your Dream? - Semester in South Korea Alumni Blog
---
To be honest, CIS Abroad wasn't my first choice when I was researching ways to come to Korea. Becoming a singer has been my dream since I was 14, so I long have thought about coming to Korea. However, as the Covid pandemic hit, the tourist's visa was suspended. What's worse is that my initial application to Yonsei University was also cancelled. In the midst of hopelessness and confusion, my home school study abroad counselor recommended CIS Abroad, saying that they were a partner to the university. From there, I applied to study abroad with CIS Abroad for the 2021 Semester in South Korea at Sogang University.
The process was super convenient! All I had to do was just fill out some background information & write a personal statement. I was also lucky enough that one of my teachers was willing to write a recommendation letter for me. It was that easy. In January 2021, I couldn't believe that I got my visa approved and booked my plane ticket to Korea.
The Journey Begins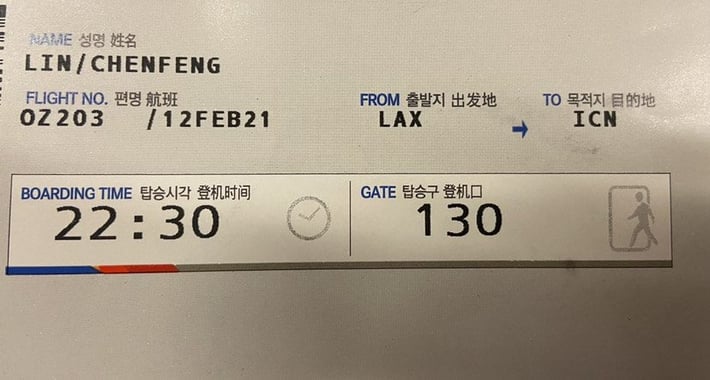 My plane ticket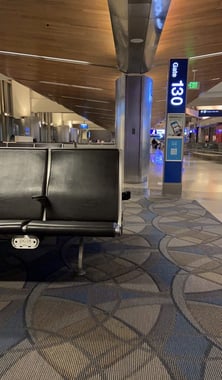 LAX airport during the peak of the Covid 19 pandemic
On February 12, 2021, I departed from LAX to Seoul, Korea. In order to prevent the spread of COVID-19, the airline assigned each of us very spacious seating. I had the whole row to myself. In addition to that, the row in front of me and behind me were empty, which was very safe and relaxing. After the 14 hour flight, I arrived at Incheon airport. The process at the airport was also very simple, the customs officers checked my visa, passport, Covid test result, then I was on my way to pick my luggage. I used the taxi at the airport exit to get to my quarantine hotel. I was also lucky enough to see the last snow from my hotel window.
After I was released from quarantine, I moved to my shared house and started my study at Sogang University. In between my studies, I started going to the music academy for lessons and practices.
Extending my Stay in Seoul to Continue my Dream
By May, I decided to attend another music academy and moved closer for the Summer. My initial plan was to stay in Korea until July, but I was really enjoying my daily life and daily practices here. I decided to apply for an extension of my CIS Abroad program for the remainder of the year. Now I'm near the end of my stay in Korea, looking back at this year, it was such an unforgettable experience. My skills in Korean, singing, and dancing have improved so much, and it was the first time for me living in a foreign country by myself - all during a global pandemic. I have made some connections with different people during my stay, so I've decided to finish my degree in the US, then return to Korea to continue my pursuit in the music industry.
Overall, I will never forget this amazing opportunity that CIS Abroad has granted me and it really felt like a dream. Thank you for everything!
Want to see more from Chenfeng & his year in South Korea? Check out his other blog, "My Year in Seoul"!