Q&A Spotlight With New Employee - Tatum!
---
Meet Tatum, our Site Director in Seoul, South Korea!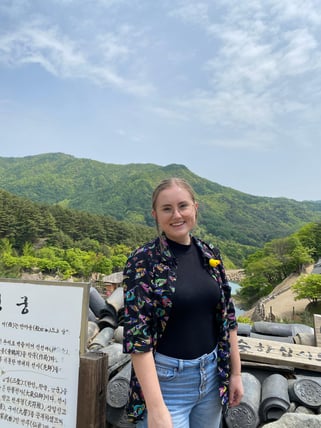 At Samseong-gung shring on Jiri mountain, Hadong country, Korea.
Why are you excited to work for CIS Abroad?
I can cite my own study abroad experience (which doubled as my first time out of the US) as a truly life-changing moment for me, where I realized the full possibilities for my future! At CIS Abroad, I am thrilled to have the opportunity to create a similar experience for students, especially students who might be traveling for the first time or who might otherwise never have envisioned themselves overseas.
The immersive cultural exchange that students experience abroad will give them skills to navigate the world in their future personal and professional endeavors, and I am so excited to help students cultivate these skills and reflect on their experiences as a Site Director!!
Describe a memorable moment from abroad
Just one? It's hard to pick because there's been so many! However, all of the best moments have come out of times when I have pushed myself out of my comfort zone. Some of the ones that stick out are: jumping into a frozen lake in Sweden on New Year's Day, and then being rewarded with another round in a warm sauna and delicious food afterward, undertaking the most difficult hike of my entire life at Mount Hua in China and then, miraculously, finding ice cream at the top and the most beautiful view, and bonding with a local family in Taiwan during a typhoon.
The last one was definitely a heartwarming moment I will always remember– as an exchange student in Taiwan, I made the trip to the southernmost tip of the island with a group of friends during our break. Kenting is usually a beach paradise, but we made it there in time for a typhoon, which meant heavy rain and murky waters. Despite the weather, we decided to hike in the Kenting National Forest. After a long and rainy hike, we made it back down the mountain and set out in search of food.
Hoping for a food stand, we walked in the middle of nowhere for some time until– miraculously– we stumbled upon an outdoor barbeque venue. You could rent a grill under a pavilion and buy barbeque ingredients next door! Overjoyed, we got the last grill and started our barbeque. Slowly, the place started to empty out– except for one table next to us, which grew to over 20 people. Suddenly, they invited our small group over to barbecue with them!
Later, they explained that it was a family reunion, and the man at the head of the table was a local TV celebrity. As the only people at the restaurant, we took over the tables, the music, and played games, and ate with the family for the rest of the night!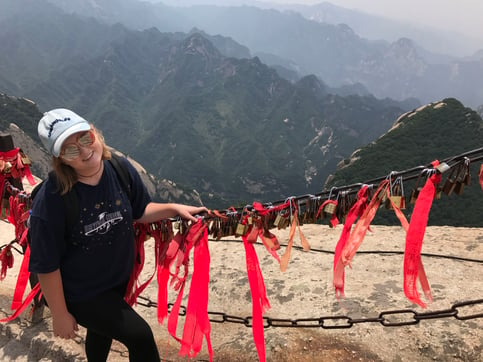 Hiking Mount Hua in China
What has your career path looked like? How did you end up in the field of International Education?
I had the opportunity to study abroad in South Korea for the first time in high school, through a scholarship program. This opportunity totally changed my perspective and goals for the future– suddenly I was interested in languages, and travel, and began to actively pursue opportunities to engage in cultural exchange. After studying abroad a few different times during university, I decided I wanted to cultivate similarly impactful experiences for students in the field of International Education.
I have worked with students preparing to study in the US through EducationUSA advising centers, American students coming to study in South Korea, and in the field of TEFL and ESL. On a more personal note, I moved to South Korea through the Fulbright grant program in 2019 and haven't left since! I am thrilled to be able to create experiences for students to learn more about this wonderful country.
A typical weekend for me is…
Trying to spend as much time outside as possible! If the weather is good, I like to go on walks, explore new neighborhoods, or go to the park. On rainy days, I love going to museums or art galleries! Of course, coffee is always a must and I make sure to try a new coffee shop (or two) when out.
5 words that describe yourself
Energetic, Positive, Adventurous, Curious, Diligent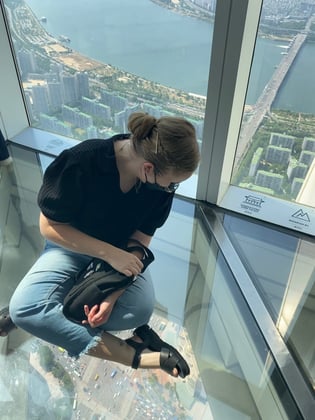 118 floors above Seoul at the Seoul Sky Tower, the 5th tallest building in the world!
Travel Tip:
Walk as much as you can! If you find a neighborhood you like, set out on foot and get lost down some side streets. Who knows what you could find- cute cafes, hidden restaurants, or local hotspots you would have never been able to find otherwise!
Why should a student choose to study abroad in South Korea?
South Korea is such a dynamic country with a long history. In Seoul, you can experience the traditional and the modern side-by-side and see firsthand Korea's amazing development and perseverance. From beautiful historical palaces and neighborhoods to trendy cafes and shopping districts, there's always a side street to get lost in or a new restaurant to try!
Want to learn more about our programs in South Korea?