Eating Japanese Food Abroad | Student Blog from Tokyo
---
Living in Tokyo, Japan, I had many opportunities to try different dishes of Japanese food abroad. I went to Shibuya, Gotanda, Harajuku, Nakanobu, and so many other areas of Tokyo. Now I am a serious foodie and love to try everything. No matter what a food looks like, I'll go for it. I may not like it, but I can have that small smidgen of pride afterward to proudly state that I tried it.
Eating in Shibuya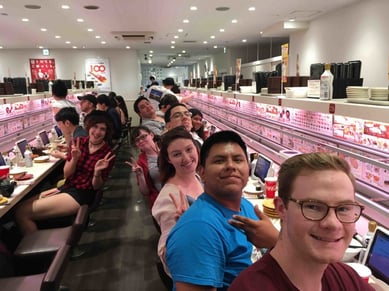 Shibuya was a lovely part of Tokyo that I went to a lot. It is a beautiful and busy place in Tokyo, and is never boring. There are many high-end fashion stores, such as the 109 stores, as well as businesses that sell games, electronics, music records, and more! While I took my time to look around at all these stores, I didn't really care about them as much as I did about the restaurants. There were plenty of alleyways to walk down and various grills and bars waiting to be seen and entered. Seafood, pork, or beef on a grill, fried tempura, MacDonald's, or various styles of Indian, Chinese, and Korean cuisine. So many choices, but one (Genki Sushi) stood out to me repeatedly and I went to this restaurant not once, not twice, but three times!
Genki Sushi
Genki Sushi was a delicious sushi conveyor belt restaurant that was a fast, cheap, and delicious way to get Japanese food abroad. I could get two pieces of sushi for 100 yen! I could stuff myself on salmon, tuna, scallop, and shrimp sushi along with miso and other side dishes while still spending less than 1,000 yen. I love sushi as well as meeting people, and this place had a mixture of tourists and locals, making it a great place to converse when people were waiting for their meals. I started many conversations about sushi, allowing me to make many new friends.
The Nakanobu Neighborhood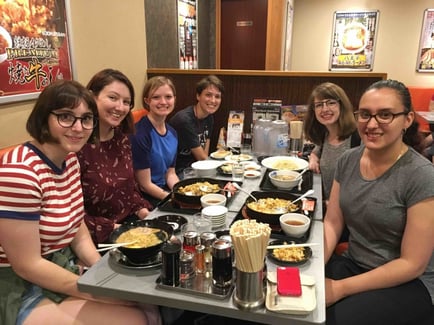 The small suburban area of Nakanobu was a place I called home for a solid month. The people there were so kind, and friendly, and the neighborhood had a homey feel when you walked down the streets and into the restaurants. It was interesting that one of my favorite restaurants used a vending machine, where you put your money in at the entrance and selected what food you would like to eat.
You can purchase ramen, tamagoyaki, as well as gyoza and dumplings from the vending machine! My friends and I really appreciated a kind server, who showed us how to stir our hot dish on our first night there. You would receive a piping hot pan filled with rice, ham, assorted spices, garlic, and frying eggs on the bottom. She poured fresh soy sauce on top and stirred the contents inside the pan. It was very impressive and the dish was delicious. I have found that this restaurant held my favorite style of gyoza and dumplings. I may be biased because that restaurant was the first place in Tokyo where I had gyoza and thus it set my standard for what I should expect. But I can't help it. Their gyoza tastes fantastic!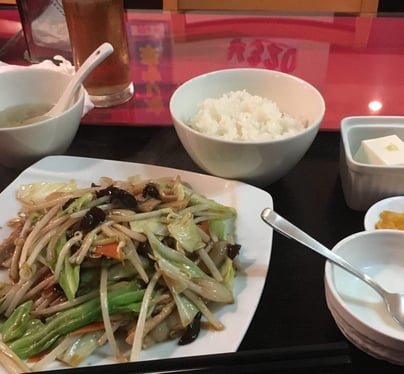 Another restaurant that I took a liking to in Nakanobu was a Chinese cuisine restaurant, though it had some Japanese flair to it. There were the same two people working in the restaurant every time I went in, but I always ordered something different. So, while they recognized me every time, they could never predict what I would order.
I always hoped that they were happy to see me, even though I never got a chance to have a full conversation with them. I was proud that my Japanese was good enough for me to thank the server for the meal in Japanese when I paid. In this process, I feel a sense of connection with the local people.
One of my friends on the CIS Abroad program with me had a goal, which was to find the best fried chicken in Japan. She went to a few places, but after coming to this small Chinese restaurant in Nakanobu, she quickly became a regular when she discovered and determined that they had the best fried chicken in the area. And to be honest, I think their fried chicken really was the perfect kind of tasty and crunchy.
Cooking Japanese Food Abroad
I did enjoy eating many other Japanese dishes such as tempura, tendon, soba, udon, ramen, and so on. However, I often found myself wanting to cook my own meals and use ingredients from the local grocery stores as well. So, I found several recipes, bought the ingredients, and started cooking. One dish that I had a lot of fun making was the vegetable stir-fry. Because meat was expensive, I cut that out. However, I would love to have some shrimp or beef stripes in my stir-fry. It was interesting that, while I love to cook in the U.S., I never made stir-fry before. So, this was the first time for me. I gave it my best go and my stir-fry was not only cheap to buy and easy to make, but also tasty and filling. I had enough ingredients to last me from Monday to Friday so I didn't need to go out and eat.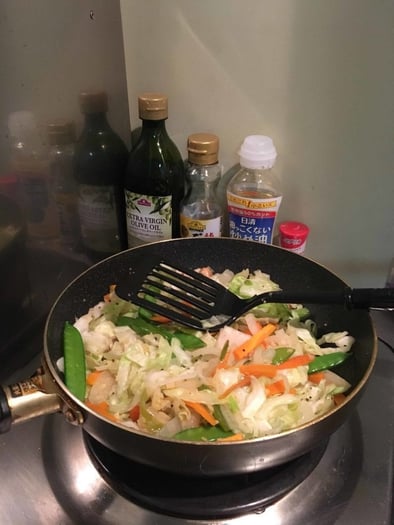 Although my stir-fry dish was a masterpiece, my favorite meal to make was actually my first homemade dish in Japan. I attempted to make my own dumplings, but that was a spectacular fail. My rice was too watery, and several of my wonton wraps ripped. But the meat and spice were perfectly mixed and rice still tastes like rice even if it looks like mush. So, I enjoyed my meal and kept practicing the next night with my leftover meat and wonton wraps. The thing about grocery shopping is that, even though you are buying for one person, you still somehow end up with enough ingredients to last you 2-3 days. Three days of dumplings? Yes please! And to my credit, I did master rice making and had minimal ripping in my future dumplings.
Food as a way of bonding
For everyone who is considering coming to Japan, I highly recommend Genki Sushi in Shibuya. I also recommend people enjoying the quiet suburbs of the city of Tokyo and trying local family restaurants. I love food and, I'm always so appreciative of the people who work to make it. People abroad may not speak your native languages such as English and Chinese, but everyone can bond through food. Food is one of the greatest bridges that can connect people from all walks of life and that is something I will always treasure from my time here in Japan.
---
Love this post about Japanese food abroad? Read more blog posts from Japan or about Food!