Top programs in Business
---
Students studying business for their major or minor are often spoiled for choice when selecting a study abroad program. It can seem like every study or intern abroad program out there offers something for the marketing, finance, or management student. But what programs are the top choices when pursuing a business degree?
One important characteristic you can look for with business study abroad programs is the accreditation of the host university. If a university is AACSB accredited, that means it has gone through rigorous quality standards and is considered by employers and other universities to be among the best business schools in the world.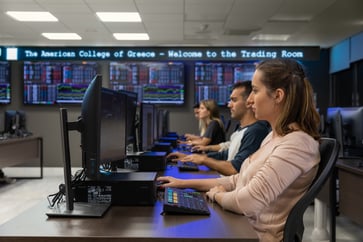 Many of CIS Abroad's partner universities have this accreditation such as Bond University in Australia, University of Roehampton in England, and Sogang University in South Korea (see here for the full list). Keep in mind, however, that AACSB began as an American accreditation and many very strong business schools do not have the AACSB accreditation. For example, one of our partners in Spain, Universitat Autònoma de Barcelona, is widely acknowledged to provide high quality business education, but hasn't pursued AACSB accreditation.
Top semester programs for business
When it comes to semester study abroad for business majors or minors, we recommend the following programs:
Semester in Greece - The American College of Greece
"ACG" provides the best of both worlds as the largest American college or university in Europe with a truly international learning experience - with 60% of students attending from Greece. A robust catalog of course offerings are available at their School of Business and Economics, all with a focus on developing analytical and practical skills that are critical to students entering a global marketplace. Take courses in accounting and finance, operations management, entrepreneurship management, marketing, logistics, supply chain management, and many many more!
"UAB" is one of the top universities in Spain, ranking #3 at last check. It's an excellent choice for business majors, who take courses in the Eixample campus ranging from internationally-themed business courses (finance, marketing, etc.) to cross-cultural management, entrepreneurship, and strategic management.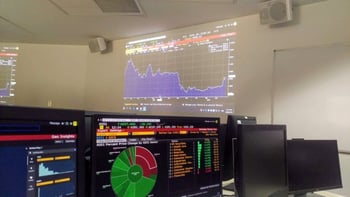 Bond University is a private university on the Gold Coast of Australia and is a popular choice for business students due to a business curriculum that closely matches that of many US universities. Students here enjoy small class sizes and interesting courses options such as sport and eSport management and cutting-edge big data science courses alongside a full complement of more standard business classes. Bond is also home to the largest number of Bloomberg terminals of any institution in Australia, which is particularly useful for students interested in finance.
Mahidol University is the top-ranked institution in Thailand and is well regarded across Asia. It has also gained AACSB accreditation recently. The university has a robust business program and offers courses across a variety of business disciplines. Finance, economics, accounting, management, and marketing majors, as well as those interested in learning about business in Southeast Asia, will definitely want to take a closer look at this program.
Sogang University in Seoul, South Korea has one of the top business schools in the country, and works to prepare its students to become top-level leaders in their career fields. This AACSB-accredited program offers a number of courses in management, accounting, entrepreneurship, and more. Immerse yourself in Korean student life by joining one of the many student organizations on campus- including the start-up business club!
Other semester programs to consider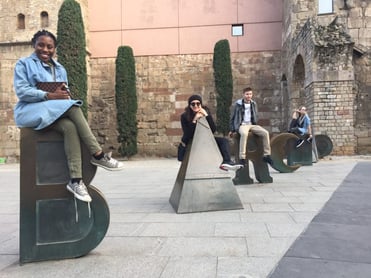 Top summer programs for business
On CIS Abroad summer programs, the selection of business courses will likely be lower than on a semester program. But students can still find a number of choices to meet the needs of the curriculum at their home university, and can always take a mix of business courses and electives. Here are some of the best summer options we offer for quality and quantity of business courses:
Students will have a unique opportunity to study at a top ranked, AACSB accredited university while getting hands-on experience in their area of interest. Placements are often project-based and tailored to each student's needs, skills, and experience and are available in fields such as accounting, business analytics, event management, international business, marketing, and more.
Top intern programs for business
Business placements are available on nearly every internship program that we offer around the world, though specific placements for particular career fields will vary depending on the location. Here are some of the top intern abroad programs with the widest variety of business placements:
What's next? To dive deeper into the courses available on a particular program, take a look at the program pages that you are interested in, and scroll down to Academics. There, under "Choose your courses" you will find information about course offerings and availability. For intern programs, sample placements can be found on each program page as well.