Site Visit With Education Ireland - Days 1 & 2
---
Arrival Day!
I met up with LeaAmma Scherbauer from Xavier and Nick D'India at the Dublin airport bright and early. After a night on a place, we were all ready to get out and explore Dublin. We made a quick stop by the hotel to drop off our bags and headed off the the city center.
From our hotel, we wandered through Trinity College's beautiful grounds, then around iconic St. Stephen's green. As we explored, the clouds parted and the sun welcomed us and kept us warm. The cherry trees were in bloom and bright flowers filled the gardens.
After lunch and coffee at a traditional Irish pub, we met up with other colleagues at the famous statue of Molly Malone. From there, Carolina (University of Alabama - Tuscaloosa) and I said goodbye to the others and made our way, along the River Liffey, to one of Dublin most celebrated attractions - The Guinness Storehouse.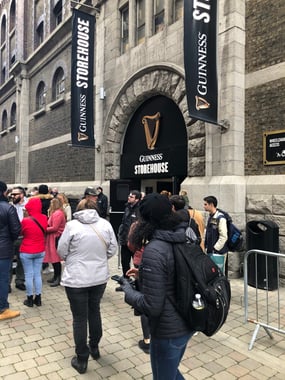 Fun fact: Arthur Guinness signed a 9000 year lease for the land where the brewery and storehouse stands.
In the evening the site visit crew gathered for an Irish dinner & a traditional music performance. The band gave our group of tired travelers the energy we needed to power through our jet lag.
Day 2
A long day full of walking was to come. We were told to eat enough breakfast to get us through the morning. Lunch would be later, so I made sure to fuel up with a hearty Irish breakfast.
A four hour bus ride from Dublin through picturesque countryside brought us to County Cork's famous village of Cobh (pronounced Cove). We passed castle ruins, stone walls, sheep, horses, and many rolling hills as far as the eye can see.
As we approached our destination the landscape changed. Narrow winding roads along the seaside led us past quaint country houses and the town of Cobh could be seen in the distance.
Cobh Village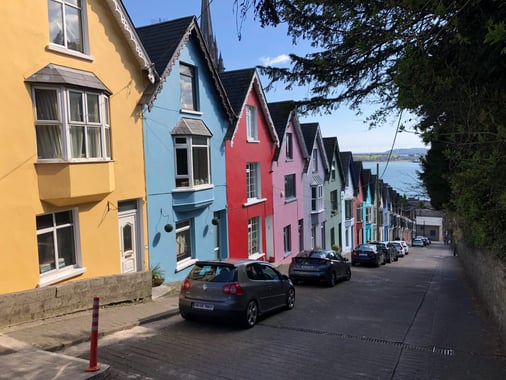 Colorful houses in Cobh
Cobh is a picturesque village with beautiful homes form the mid to late 1800s built in gorgeous Victorian and Georgian style. It's best known for being the site where the survivors of the sinking of the Lusitania were brought, and for being a the main port for Irish immigration to the USA. Also, Cobh was the last port of call for the Titanic before its fateful Atlantic crossing.
Throughout the day, stories were told, good food was had, and the company was the finest.
Tomorrow we'll visit the University College Cork, and we'll see the beloved town of Cork, in Ireland's beloved southernmost county.
---
Want to follow along Joe's journey across the Emerald Isle? Check out the links below!
Site Visit With Education Ireland - Day 3
Site Visit With Education Ireland - Days 4 & 5
Site Visit With Education Ireland - Days 6 & 7