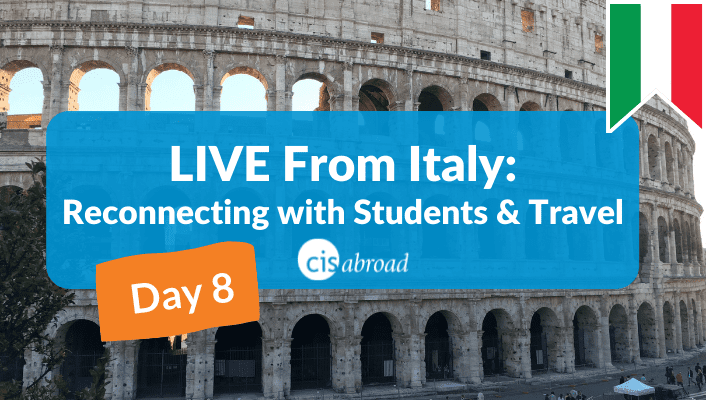 Day 8: LIVE from Italy – Reconnecting with Students & Travel
---
Travel with Scott Tayloe, Chief Strategy Officer, CIS Abroad, as he travels to welcome our students to Italy, January 12th – 22nd, 2022.
Flashback to March 2020
For so many of us in international education we vividly remember the events of March 2020. We came together as an industry to get our students home. It's not the coming together that stands out, it's the idea that we had to go against everything we knew and inform our students they had to return home. I remember those first few days when so many of us didn't know the gravity that would become this pandemic. The conference room turned bunker room. The spreadsheets. The late nights. Is this really happening? Are we really shutting down our programs in Italy? We were hopeful that our students could remain, but ultimately it was inevitable that they would have to return. And with that, our students in Florence were asked to travel home.
In the Present Again: Welcome to Florence!
I honestly don't know why I set an alarm. As a parent with small kids, my body at this point wakes up to any sound and serves as the most punctual of clocks. Today, however, I found myself up earlier than usual. Today, 60 students would be arriving and checking into their housing. I almost felt like my kids on Christmas morning. As I headed down to the lobby of our housing complex, I texted my colleagues who were out at the airport, pumping them up for what would be a long but exciting day!
They arrived. I checked them in and asked how they were feeling. "Excited." "Tired but can't believe I am here." "This is so unreal". With each enthusiastic response came another, and another. A few hours into the morning I had officially helped our site director to welcome and check in most of our students. It had been routine. It had been natural. There were a few roommate change requests, questions about SIM cards, nothing unexpected in the first few hours of any arrival. All in all, I felt as though I was simply going through the motions as it had always been.
A Look of Despair
It was then that a student walked in with that look of despair. She was clearly stressed and almost in tears. Her luggage was lost. I'd almost forgotten how traumatic this feels. I remember the first time an airline lost my luggage on a trip to Amsterdam. I was in complete misery and utter mourning for 5 days. My bag, however, clearly had a lovely time in Honolulu, refreshed and ready to clothe me for my final 2 days when it arrived. After submitting a report to her airline and reassuring her that it was very likely on the next flight from Munich (which of course I happily researched as the resident flight nerd), I could see that she was relieved and she headed off to her room.
The Last Student
As the day was winding down and my stack of welcome bags was diminishing we began to worry about one student who by now should've been out of customs. Her flight had come, the passengers had gone, but she was nowhere to be found. In a quick search in our system I found that her flight out of Boston had been canceled and alerted the folks at the airport of the flight I was positive she was on – landing in a mere 20 minutes. That flight came, the passengers left, but still no student.
We phoned the home office to see if they had any word from her but when roads became dead ends it was clear we would need to phone her parents. It was then I saw a student standing at the welcome desk. She appeared to be asking for someone and looking around. As I approached her she said "Are you Scott with CIS?" I said, "Yes I am!" Out of nowhere I felt myself fighting back tears. She had arrived safe and sound, signifying the beginning to her study abroad experience. But unbeknownst to her, her arrival was also signifying the end. The end of having to recount those memories from two years ago and the chance to once again say "On behalf of all of us at CIS…..Welcome to Florence".