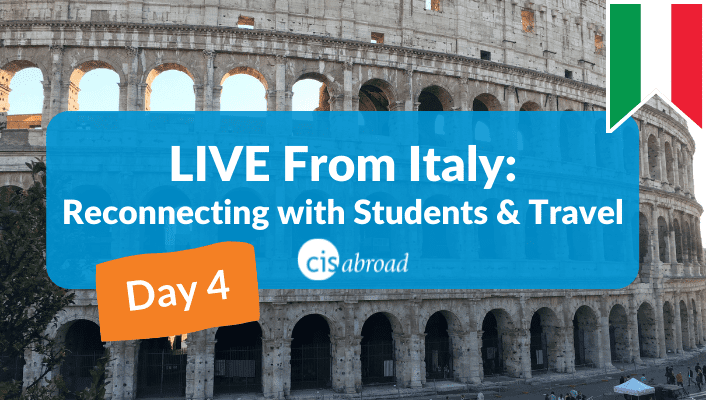 Day 4: LIVE from Italy – Reconnecting with Students & Travel
---
Travel with Scott Tayloe, Chief Strategy Officer, CIS Abroad, as he travels to welcome our students to Italy, January 12th – 22nd, 2022.
Day 4: Naples
At the JFK airport the other day I sat next to a young lady headed home to Florence. She was American but had been spending time visiting family and living in Florence for the past few years. When she asked where I was traveling and I included Naples on the list of cities, she responded with a bit of disgust. "Napoli is not a nice city, why would you ever go there?"
Los Angeles – the Naples of the U.S.A?
My husband and I used to live in Los Angeles. Prior to living in the City of Angels we both felt as though it, like Naples, was far from heaven. The traffic. The smog. The sense of needing to succeed. I too would've put LA into a Naples category. We then moved there and were thrust into immersion. Slowly over time our comments about LA were about the farmers markets in Pasadena, the hiking and nature trails of the nearby canyons, and the distinct cultures and communities that made up the various neighborhoods of the city. I felt horrible for ever speaking ill of the city once we left, it forever changed how I would speak of a city prior to experiencing it for myself.
Many of our experiences come via stories. It's through a story that we remember a time or a place and recount the feelings that we were experiencing at that moment. While on an excursion to Naples today with students, I held back the comments I had heard about the city. I wanted them to experience it. To feel it. To create their own story. As we made our way through the city, the students were in awe of the views, enamored by the tall buildings surrounded by old castles and cathedrals. "It feels like Scotland, but London too, but also a bit of NYC", one of them said.
Time to Tell Your Story
As we sat down for lunch at a local pizzeria that our guide, a local, recommended the students turned to me and asked me two questions. One was a very common question that I always get. "What is your favorite place to travel to, Scott?" For this question I always give the same response. "It's not easy to answer…..I love the people of the Philippines, the food of Thailand, the culture of Paris. The world is far too incredible to just pick one." They then asked me a less common question, one that in a pandemic filled with limited travel, made me stop and think. "What are some of your most memorable travel stories?"
It was as if the DVD of my life had been paused, but they had just pressed the on button again. In an instant all of these memories and stories started to flow back to me. I smiled thinking of which one to tell them first and then told them quite a few. They laughed; they smiled. I ended by telling them that it's now their turn to create their own stories and memories.
As we pulled back into Sorrento that evening and the sun began to set over the horizon, the students' first excursion together was coming to an end. As we took a group photo, they began to laugh when one of the students recounted a moment that had occurred earlier in the day. "We will always have that inside joke from Naples", they said. And with that Napoli and the memory of the city would forever be cemented into their minds as a pivotal story.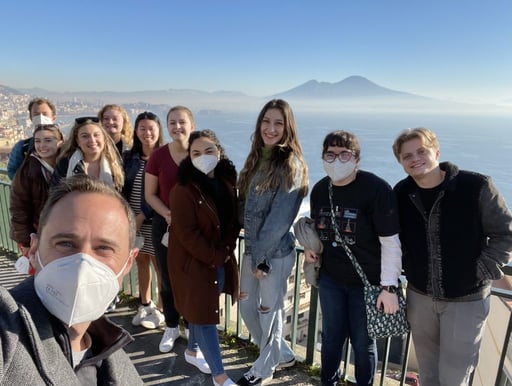 On our Excursion to Naples today!