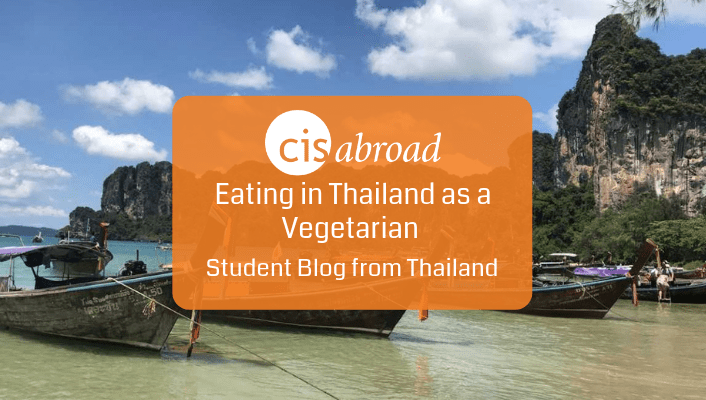 Eating in Thailand as a Vegetarian | Student Blog from Thailand
---
At first, Thai Food was not what I expected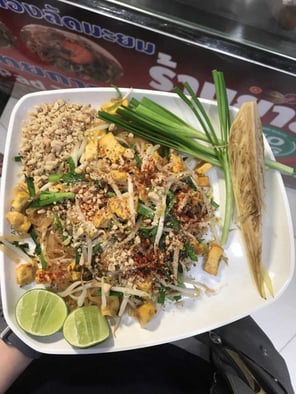 It wasn't long after I arrived in Bangkok that I realized most Thai dishes have some kind of meat in them. I didn't expect that most dishes here have meat, because I read online that Southeast Asian cultures use a lot of vegetables in their cooking. While many dishes come with some type of noodle or rice and vegetables, meat seems to be embedded in their culture just as much.
Since I couldn't speak any Thai to ask for meals without meat, I spent the first week or so trying to use Google translate. However, using Google translate was a major failure and I ended up just eating around the meat that was served in my dishes.
Then, after communicating with my CIS Abroad site director David, I was able to learn crucial words and phrases in Thai that allowed me to communicate with the food vendors. After working on the pronunciation, I was able to get my meals made with only vegetables and noodles/ rice. From then on, I really started to love and appreciate the cuisine in Thailand.
Getting ready for eating in Thailand as a vegetarian?
Check out the video that teaches you Thai words for ordering vegetarian foods!
What I love about Thai food
One amazing aspect of food here is how accessible and cheap it is! Everywhere you go, whether it be in downtown Bangkok, Salaya (where Mahidol University is), Chiang Mai, or even one of the islands, there will be street food. Typically, one full meal from a street food vendor is about 30-60 Baht, which is about $1-2. Since the food is made to order and cooked right in front of you, buying street food food is one of the best ways to get cheap, fast, delicious food in Thailand. To me, eating street food in Thailand is similar to eating at one of the Japanese Hibachi grills in the United States – except that it's only a fraction of the cost.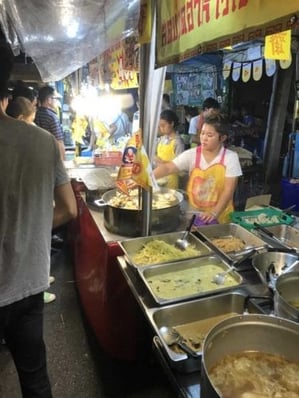 I also love that right outside of the student apartments in Salaya, there are many restaurants to choose from. This means that a delicious dinner is just a few steps away! Some of my favorite local dishes from this area include pad see ew (large stir-fried noodles with vegetables), stir-fried mixed vegetables with tofu, noodle soup with vegetables, fried rice with vegetables, and of course, the pad thai. Honestly, I think I could never get tired of them!
Try the tofu even if you think you won't like it!
One thing worth mentioning is that I had never been a huge fan of tofu as a vegetarian in the United States. I would never order tofu at a restaurant back home. However, once I opened up to adding it in my meals in Thailand, I came to love it. I eat tofu in some form almost every day. This is because tofu is such a huge part of Thai food. Even my friends who usually order pad thai with chicken get tofu dishes sometimes.
So, my recommendation is to be adventurous with the foods you think you may not like back home. The flavors are so robust here and the locals know what tastes good, so trust them!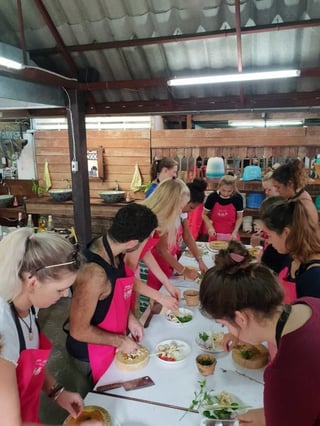 My snack go-to: 711
In addition to the amazing food that is freshly cooked from street vendors and local restaurants, there is one other source of food that is super convenient and popular here: 7-11s. Yes, this is a gas station in the United States, but in Thailand 7-11s are everywhere (and they don't even sell gas!). They have tons of fun Asian snacks to get on the go, such as cup noodles, vegetable-filled/ black bean-filled buns, weird (but somehow yummy) flavors of potato chips, different kinds of candy, and even loaves of bread. When I feel like getting a late-night snack after dinner, 7-11 is definitely the go-to!
My suggestion of eating in Thailand as a vegetarian:
Know the words before you go!
Overall, my biggest recommendation for anyone traveling to Thailand is to not be afraid to try new dishes. They're all so tasty and you can't go wrong!
For any fellow vegetarians, don't be intimidated by how many dishes have meat in them. I have found that I can order almost any dish and Thai people can just prepare the dish with vegetables instead of meat. Just know the Thai words for "vegetarian" and "no meat" before you go.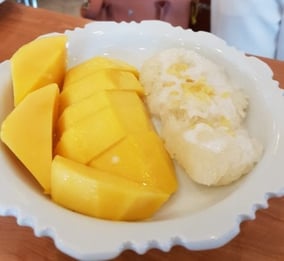 ---