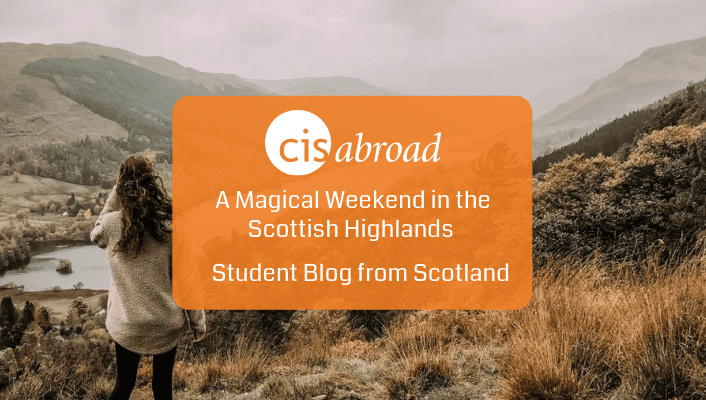 A Magical Weekend in the Scottish Highlands | Student Blog from Scotland
---
Why did I choose Edinburgh?
I fell in love with Edinburgh back in 2016 when I visited for three short days. That was enough to sell me on coming back here for three whole months to study abroad. I was instantly entranced by the city, I didn't even think about what the rest of the country had to offer!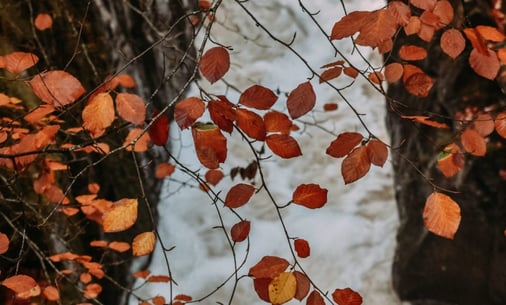 Before leaving to study abroad I, of course, followed tons of Instagram accounts dedicated to posting stunning photos of Scotland. My feed was quickly filled with images of incredible landscapes, castles, and of course, highland cows (or highland coo as they're called here). I was delighted to find out that my CIS Abroad program included a weekend excursion to the Highlands. With the help of CIS Abroad, I had a magical weekend in the Scottish highlands.
The CIS Abroad Excursion to the Scottish Highlands
Friday
On Friday, October 12th, my fellow CIS Edinburgh students and I were picked up bright and early by a minibus.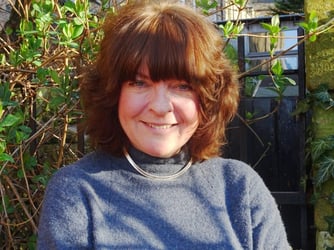 On board already was our site director, Jeanna, who is truly one of the kindest people I've ever met. She made the transition of living in Scotland a lot easier and was always available to answer questions.We were also greeted by our driver, Nick, and our tour guide, Nory. Nory runs Heartland Travel and gives tours of the Highlands every weekend. From Edinburgh, we traveled to Stirling to pick up the CIS Abroad students who chose to study there.
Our first official stop was Doune Castle, which has been used on the sets of Outlander and Monty Python.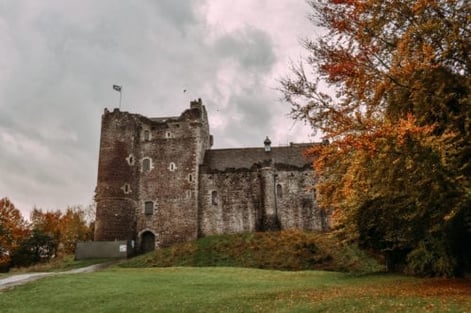 From there, we had a short stop in Callander to pick up sandwiches. We also had the chance to feed some highland cows! If you know me, you know how obsessed with animals I am. This was my first time seeing the coo in person and I was freaking out. They're so fluffy!
After petting the cows, I was already in a very positive mood. The border from the Central Belt of Scotland to the Highlands was a short journey away from Callander. As we traveled further north, Nory began to tell us about the history of Scotland. We pulled up to a small graveyard and he told us that we were going to take a quick hike to the "prettiest viewpoint in the Lower Highlands." Let me tell you, Nory didn't lie. My breath was immediately taken away when we reached the top of the trail.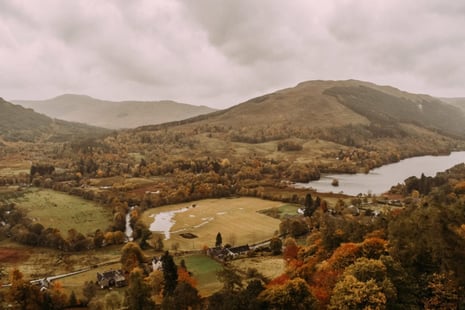 Seriously, how amazing is that view? I felt like I was in a catalog for nature gear or something. When we got back down to the graveyard, Nory explained to us that Rob Roy MacGregor and his family were buried there. I had absolutely no idea who this was, but he is a large figure in Scottish folklore. A google search of his name can definitely explain his role in Scotland better than I can, but from what I understand, he was a famous outlaw-turned-hero.
We kept heading northwest to Glencoe and stopped to see the Three Sisters. It was pouring rain but we still got out of the bus and snapped a few pictures. The wind was so strong that it almost knocked me over!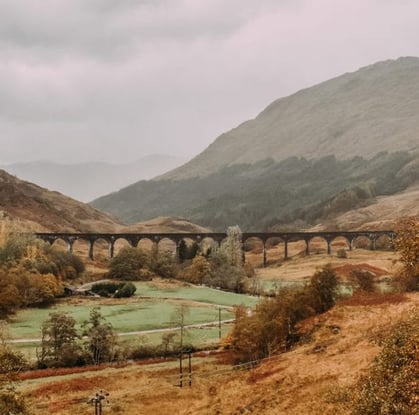 Then we were off to the most hyped-up stop: the Glenfinnan Viaduct, aka the Harry Potter bridge. You know the scene in the Chamber of Secrets when Ron and Harry are flying their car over the Hogwarts Express? The Viaduct is the bridge that the train is going over in that scene! If you turn to the other side of the viewpoint, there is another filming location from the Harry Potter series. Loch Shiel was in the Prisoner of Azkaban when Buckbeak dips his claw into the water. The theme song was stuck in my head the entire time we were there and for the 2.5-hour drive to our next stop.
We stopped at a Lidl's to grocery shop for dinner. Our task was to get food for all seventeen of us using the "kitty" (money we all pooled together). It is really hard for seventeen people to choose one meal. After a lot of debate, we decided pasta, garlic bread, and salad would be the easiest option. Of course, we also picked up some snacks.
After getting groceries, we stopped by Eilean Donan Castle. On our way there, Nory told us a fantastic tale about the reason the castle was built. To hear it, you'll have to go on one of his tours!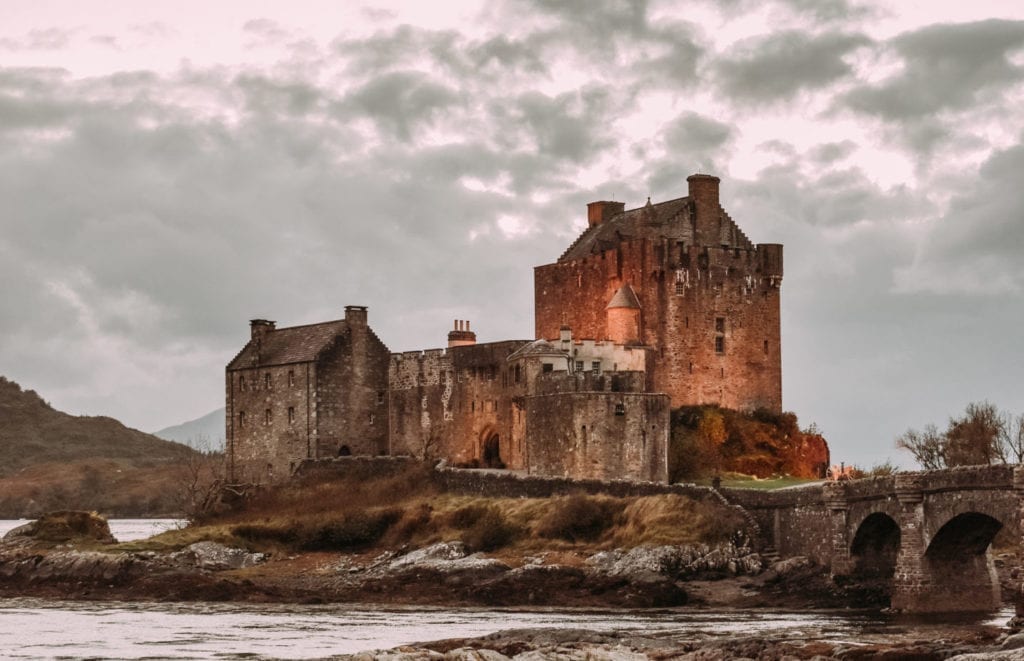 The castle was a short drive from where we stayed in Stromeferry. The house was set right on Loch Carron and had a wonderful view. It was a ton of fun making dinner with so many people and then eating and drinking with everyone after. It really felt like we were all at home. I shared a double room with my friend Ceara for the two nights we spent there.
Saturday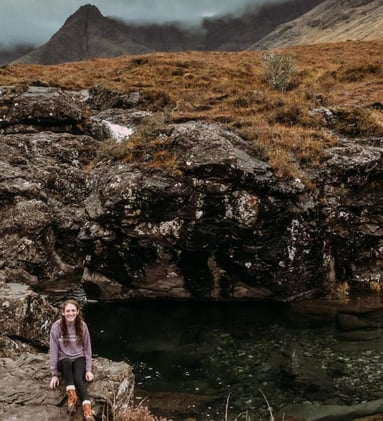 At 8 AM the next morning, we headed to the Isle of Skye for a jam-packed day. Our first stop was the Fairy Pools which have been made insanely popular by social media. Nory taught us a lot about Scottish folklore, including their obsession with fairies. It is said that the fairies used to bathe in these pools for eternal beauty. I didn't test out the theory; knowing my lack of coordination, I would've fallen in.
The pools were crystal clear and had almost a teal tint to it. They were truly beautiful, but I thought the landscape around them was what made the area even more stunning.
From the pools, we went to Neist Point which was probably my favorite stop of the weekend. We had the option between walking to the Neist Point Lighthouse and hiking up a bit for a view. Since I don't know much about lighthouses, I opted for the hike. I'm glad I did because look at how stunning the view was!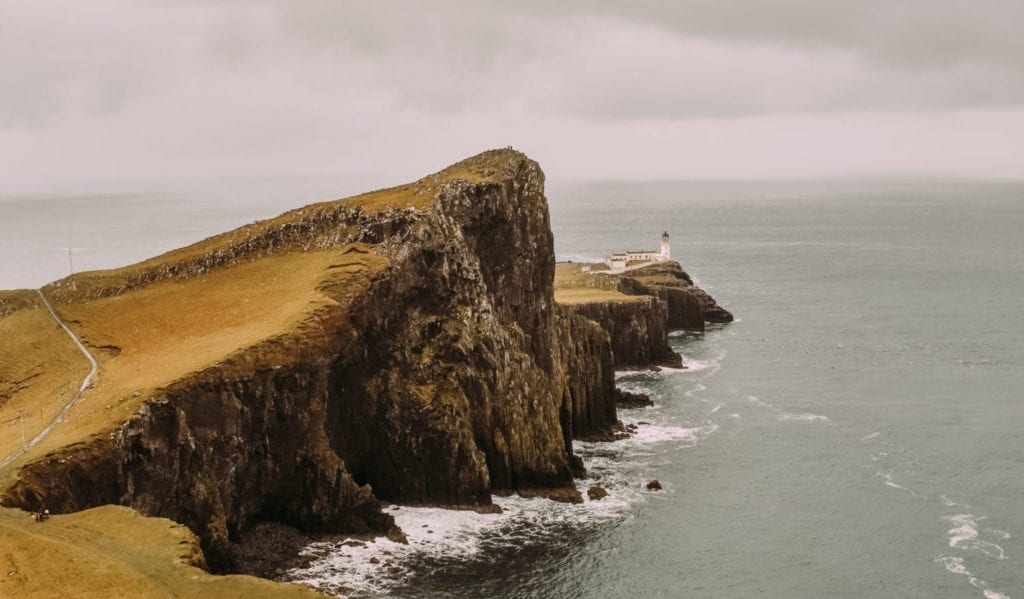 It was then time to head to Nory's favorite spot on Skye, the Fairy Glen. The glen is said to hold the entrance to the fairy kingdom. The landscape really looks like something out of a fairytale. It just doesn't look real. It was used in the movie Stardust, which I haven't seen in forever but loved as a child. There were quite a few sheep in the glen which made my animal-loving-heart very happy!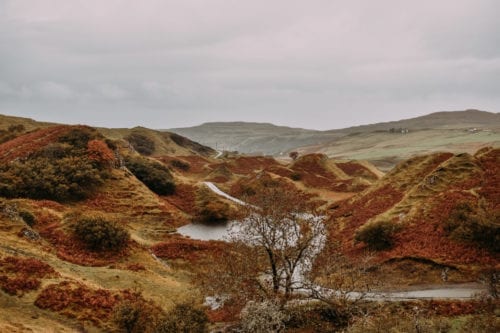 Our next stop was Cuith-Rang or Quiraing (I've seen it spelled both ways). Nory told us this was also used as a filming location in Stardust. It was raining pretty hard at this point so we didn't stay for long, but the view was stunning.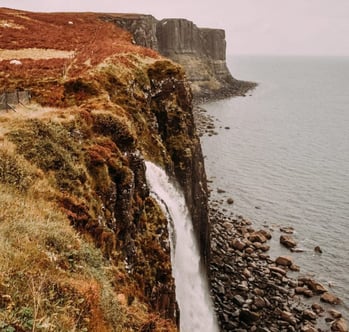 Finally, before returning to our accommodation, we stopped at Kilt Rock. It's named this since the formation looks like the pleats in a kilt!
That night, Nory made us a traditional Scottish dinner of haggis, turnips, mashed potatoes, and a little whiskey. I was quite hesitant to try haggis knowing what's in it, but it wasn't bad! The texture threw me off a little but otherwise, it was tasty. We spent our night bonding with everyone in the program and it was really lovely.
Sunday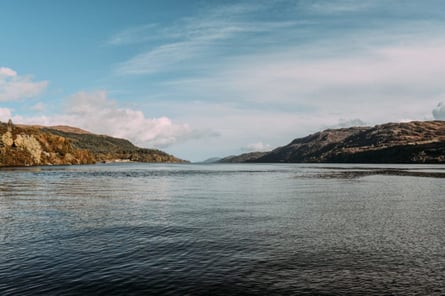 On Sunday it was time to head back to Edinburgh but not before making a few more stops! How could we go to the Highlands and not stop at Loch Ness? A few brave people actually swam in the lake (I was not one of them). We hung out in the town of Fort Augustus to eat lunch and do some souvenir shopping. Sadly, we didn't see Nessie.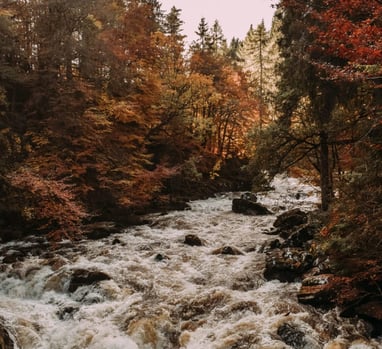 On our way back south, we drove through the Cairngorms National Park and stopped at the cutest coffee shop. Our final destination was The Hermitage. Nory led us through the woods to a building that opened up to a beautiful waterfall.
Then it was off to Stirling to drop off my new friends and finally, back to where we began in Edinburgh. I arrived home exhausted but filled with wonderful memories, a stronger love for Scotland, and over 700 photos to edit.
Alba gu bràth (Scotland Forever),
Lauren
---
Read other CIS Abroad blog posts about Excursions or from Scotland!
Or read Lauren's personal blog about her journey!
Learn more about Lauren's program in Edinburgh!