Site Visit With Education Ireland - Day 3
---
Day 3 - University College Cork
The University College Cork is located close to the center of Cork City, Ireland's second largest city. There's campus accommodations right in the heart of downtown, within an easy walk of all that Cork has to offer. It's the perfect combination of both town and gown.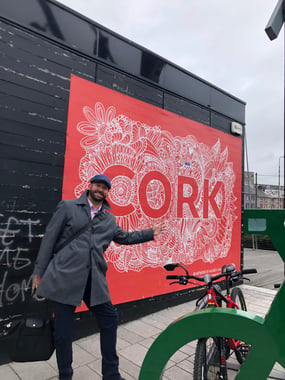 In the city center
The River Lee runs through this quaint city. It's easy to see why locals love their city so much - it has it all in a small and manageable package. The people of Cork love to joke that they are the best city in Ireland, and giving Dubliners a hard time is a favorite past time.
Cork offers a rich history and an authentic Irish cultural environment - slightly different than the capital city. The city was once known as Queenstown, but that name was shed to distance itself from the British.
The people of Cork remember the past - with statues, memorials, and with street names that pay homage to those who suffered, starved, and fought along the path to Irish sovereignty. Many of these struggles were not too long ago and their memory can be felt in the stories that people tell and in the historical sights that dot the city.
Meeting with Study Abroad Students
Students are well looked after at University College Cork, and the academics rank high. We met with study abroad students who raved about their experience. The university has a little bit of everything to offer in terms of academics. What truly stood out were the special 3 week courses at the beginning of the Fall term. It's designed just for study abroad students to help them get the most out of their experience abroad. These experiential learning courses focus on the history and culture of Ireland. Students take field trips to many of the historical sites of the country - giving them perspective as they being their Fall term.
This was an excellent visit and this would be a good option for CIS.