Q&A Spotlight With Program Enrollment Coordinator - Amanda!
---
Why are you excited to work for CIS Abroad?
I've always been passionate about study abroad. I had an incredible experience, myself, which put me on the path to becoming a traveling ESL teacher, allowing me to experience so many beautiful places and cultures. I'm excited to work for CIS Abroad because I want to help people have life-changing study abroad experiences that are affordable and engaging. I love that CIS is committed to diversity, equity, and inclusion, not only providing access to underrepresented students, but helping them navigate tough issues so they can thrive while abroad. And I really align with the company's values – passion, fun, cultural curiosity, trust, and change & growth. From what I've seen so far, those values really shine through in everything they do.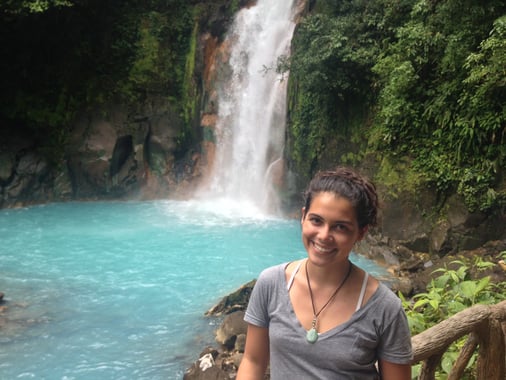 Visiting the Rio Celeste in Costa Rica
Describe a memorable moment from abroad
It's so hard to choose one! There's the time I swam in bioluminescence in Samara, Costa Rica; or the time I ate my way through a narrow and bustling street market in Kyoto, Japan; or when I experienced Las Fallas festival in Valencia, Spain. But a special one I'd like to share here is when my boyfriend and I did a guided van tour around the island state of Tasmania. We had recently moved to Melbourne, Australia to teach ESL and it was time for Christmas break. We didn't have anyone to spend the holidays with so we booked a 5-day van tour through Tasmania. Our tour guide was an incredibly knowledgeable and passionate, yet goofy and sarcastic, nature and wildlife enthusiast (His first rule was if you see someone feeding the wildlife, punch them in the nose.)
When we hopped on the van, we discovered there were 17 other travelers with us… and they came from all over the world – Germany, India, France, China, Lithuania, the UK, Japan, the list goes on. Together, we experienced Tasmania's beautifully diverse landscapes, walking through a GIANT tree forest, hiking the iconic Cradle Mountain, and relaxing on a secluded beach with turquoise blue water and red rocks. We encountered animals both in the wild and at a wildlife sanctuary including wombats (now one of my favorite animals - they're so fat and cute!), wallabies, kangaroos (we had a kangaroo selfie contest), and had the great privilege of meeting some cute but vicious tasmanian devils (we watched their feeding time and they are no joke!).
These incredible shared experiences and our hilarious tour guide brought the whole group close together. And on Christmas day, despite our differing cultures, we came together as a group and cooked a meal in our hostel kitchen. It's one of my favorite memories because we thought we were going to spend Christmas alone and we actually spent it laughing and sharing a hodgepodge of homemade dishes with 18 newfound friends from all over the world.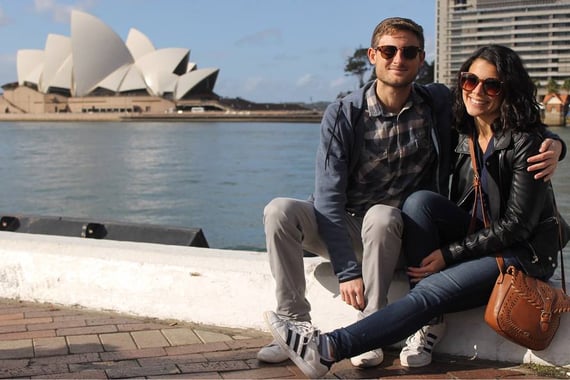 Amanda with her partner Tim in Sydney
What has your career path looked like? How did you end up in the field of International Education?
I graduated from Florida State University with a BA in Communications and English. My first job out of college was copy editing for the Seminole Tribune, the Seminole Tribe of Florida's monthly newspaper. In this job, I learned a lot about the tribe and got to visit all their reservations, writing spotlight stories, covering events, and taking photos. It was a good job, but I knew I wanted to see the world so I decided to move to Costa Rica, my mother's home country (pura vida!), to connect with my roots and become an ESL-certified teacher.
I taught English to all ages in Heredia, Costa Rica for one year and absolutely loved it. After that, I moved to Madrid, Spain and taught English to middle and high schoolers for two years. During my time in Madrid, I also did some freelance writing for a higher education digital marketing agency, writing articles about education technology. Then I moved to Melbourne, Australia to teach English to international students that came from all over the world to learn in an immersive environment. Along the four-year journey abroad as an ESL teacher, I visited more than 20 countries and connected with hundreds of students. Upon returning to the states I knew I wanted to progress in the field of international education and keep connecting with students, so I decided to pursue a master's degree in international studies at NC State University.
During my program, I interned as both an academic advisor for NC State and a graduate assistant in the study abroad office at Meredith College. My grad program and internships only solidified the fact that I wanted to work in study abroad, and here I am – a program enrollment coordinator for CIS!
What does a typical weekend look like for you?
It depends. Sometimes I like to stay in and relax, maybe work on creative projects at home and cook a nice meal with my partner. And sometimes I like to go out and explore my city – whether it's trying a new restaurant, going to a special event like a concert or art exhibit, or taking a walk in one of the many parks in the Triangle area. I also love spending time with my family and friends.
What are 5 words that describe yourself?
Empathic, Adventurous, Resourceful, Creative, Adaptable.
What's your best travel tip?
Don't over plan. Have a place to stay, pick a few major things you want to do, and then just get lost in the beauty of it all. If you plan too many activities, you miss out on stumbling into the most wonderful things that you'll never forget.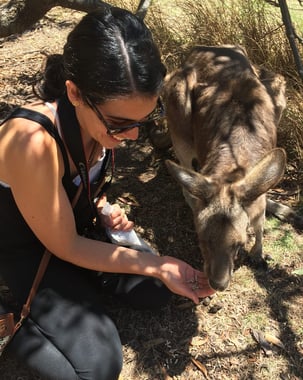 Kangaroos!
Why do you think students should choose to study abroad in Australia or Costa Rica?
You should study abroad in Australia if you're interested in nature and wildlife. There are so many amazing animals and beautiful places to see. It's also a great place to have a multicultural experience in an English-speaking country.
You should study abroad in Costa Rica if you want to learn Spanish in an immersive environment – the accent is easy and the ticos don't speak too fast. It's also a beautiful country with so much to offer – gorgeous beaches, lush rainforests, cities surrounded by mountains and kind people with a laid back lifestyle!