CISabroad nominated for two GoAbroad.com Innovation Awards
---
Above: Think we were a little excited? CISabroad celebrates receiving the People's Choice award at NAFSA 2017.
April 26, 2018
It seems like yesterday that we were jumping with joy at receiving GoAbroad.com's People's Choice Award at their NAFSA reception last year. Now, NAFSA 2018 is rapidly approaching and there's a new round of Innovation Awards ready to "acknowledge institutions, organizations, and individuals moving the field forward, and commend leaders in the community for their efforts to go beyond the conventional."
CISabroad is proud to be nominated as finalists in two GoAbroad.com Innovation Award categories this year: Innovation in Marketing and Digital Media & Innovation in Diversity.
Our core values are: passion, fun, cultural awareness, being helpful, change & growth, teamwork, and good ideas. We're thankful for the Innovation Awards because they feed our passion for continuing to grow and change in ways that will best support our partners, have fun working on new projects together, and encourage us to reward our colleagues' good ideas. Learn more about our initiatives below!
Innovation in Marketing and Digital Media
Faculty Study Abroad Certification Series – Partnership with University of South Carolina
CISabroad partnered with the University of South Carolina to offer a five-part online and on-campus workshop series preparing faculty to take their classroom abroad. Faculty members and staff learned from their peers and other experts in the education abroad field about best practices and how to align campus resources with their academic goals. Faculty and staff who attended 4 out of 5 sessions were awarded a grant to award to one (or several) students studying abroad on a CISabroad custom, intern, or study abroad program!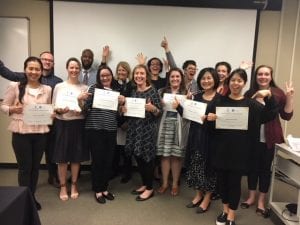 Do you have an innovative idea to try out on campus? We can help. Contact your University Relations Representative with ideas or questions — we'd love to partner with you to help you achieve your goals!
Innovation in Diversity
CISabroad recently created the Diversity Audit Tool, a resource to assist an organization or institution with measuring diversity in outreach materials in order to connect with students from underrepresented groups, such as low socioeconomic status, first-generation, ethnic background, religious background, LGBTQIA+ identities, and people with different physical abilities.
The overwhelming majority of Generation Z (those who are currently in college) value a commitment to diversity, inclusion, and social justice – no matter their own personal identities. They are also savvier than any other generation when it comes to sensing authenticity in advertising. When attempting to recruit traditionally underrepresented groups, international educators must first look at their marketing materials. Are we highlighting authentic diversity within our materials or simply using stock photos to check the "diversity box"?
Learn more and check out our Diversity Audit Tool here!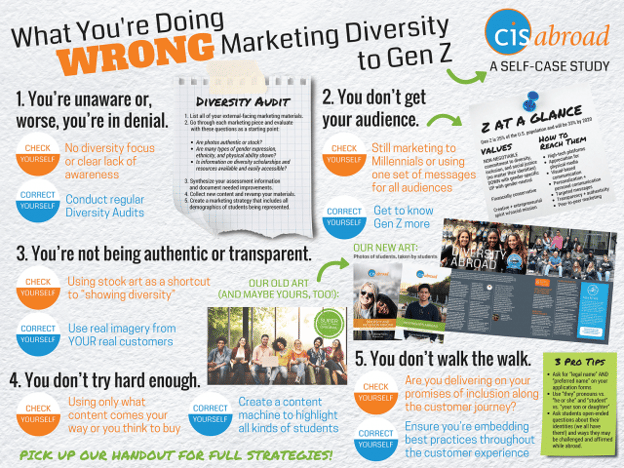 We'd love to hear from you! Please reach out to Candace Matta, VP of University Relations for questions or ideas on how we might be able to collaborate.