Top 4 Tokyo Foods to Try | Student Blog from Japan
---
It's no question that one of the things you must do when traveling abroad is try out new foods and restaurants. Among activities such as sightseeing and shopping, eating is a huge part of experiencing your time abroad! So let's dive into the Top 4 Tokyo Foods to try.
Though I experienced the foods that I'm about to recommend in Tokyo, some of my tips might be helpful for anyone abroad (especially Tip #3).
Additionally, the food I'm recommending is all fairly inexpensive. As a student, I didn't have a ton of money to spend on food, but in Japan that didn't matter much because even the affordable food was delicious! Considering all of that, here's what I recommend you try when you're in Tokyo.
1. Sushi, soba, ramen, and others!
I wish I could list more, but you probably get the gist. You should always try any traditional local foods when you travel. But for me, personally, sushi is my top recommended local food in Japan.
You can definitely taste the difference between the expensive sushi and the more affordable sushi, but it's all delicious either way.
The Cheap Stuff
If you're looking for cheap sushi, I recommend $1 (~100 yen) sushi joints such as Genki Sushi.
Treat yourself!
If you're looking for better quality sushi, but still at an affordable price, there are a lot of options. I recommend you check out this restaurant in Asakusa (pictured below). It's located in one of the mid-left side streets of Sensoji Temple's shopping street.
When I went, the waitress even spoke English!
2. Crepes in Harajuku… or just anywhere!
Okay, to be honest, crepes are probably good anywhere, but I recommend you try them from a Harajuku street stand.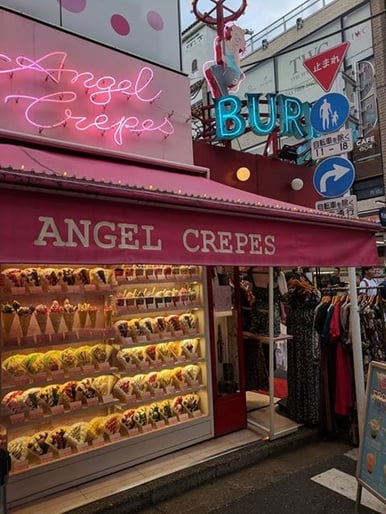 There's a certain atmosphere to the whole experience. And something about being surrounded by the cutesy, pink Harajuku shops makes holding a sweet, adorably made crepe in your hand make you feel right at home! It's part of the experience!
3. International Burgers
I had a professor who once told me that every time he visited a new country, state, or region, he had to try a burger there. Being a burger enthusiast myself, I thought this idea was genius.
It doesn't have to be a burger! You should try a local version of any food you regularly enjoy at least once when you're abroad. It's just one meal, after all.
Foods you may have at home may taste different abroad, made with their own twist or with different ingredients. For example, the burgers in Tokyo are more artisanal than I am used to, and extremely juicy. My friend even told me that the one she tried near our hotel was the best burger she's ever had!
4. Street food
We don't really have street food where I'm from, so I wanted to go all out on this one. Especially since it was an easy way to try lots of different foods at low prices.
Luckily, one of the first excursions we had with CISabroad was at Asakusa's Sensoji Temple. Right outside was a long shopping street filled with food and souvenir shops. Dango, mochi, rice crackers, and matcha green tea items all over.
While you're there, definitely look out for the strawberry daifuku. The entire thing tasted so fresh. the dough was so soft and the strawberry was so juicy and sweet. If you're not into street food, there's plenty of sit-in restaurants in the side streets of Asakusa as well! Try them out!
Thanks for reading my post about my favorite Tokyo foods!
---
Hungry to experience all Tokyo has to offer? Check out all the ways you can go to Tokyo this summer or January.