3 Must-See Ghostly Destinations in Florence | Spooky Student Blog from Italy
---
I've had a life-long fascination with the paranormal. Just ask my family members or friends. When I arrived in Florence, one of the first things I searched up was if the city had any reported haunted sites that I could visit. With Florence being ancient and enriched with history, of course I wasn't let down.
The fall season has descended upon us. And with the temperatures dropping, what better way to spend your nights than reading scary stories and strolling through the streets to check out some of Florence's darkest legends and mysteries?
Here are my top 3 ghostly destinations in Florence:
1. Palazzo Budini-Gattai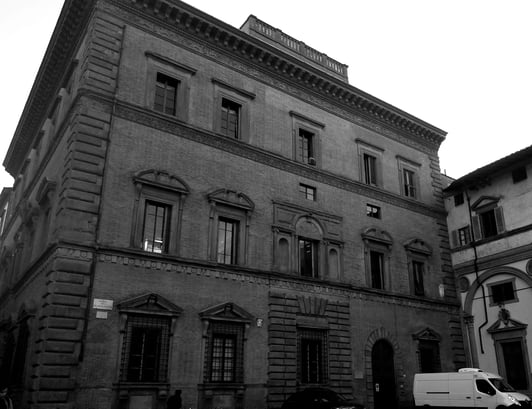 If you've been to the Piazza Santissima Annunziata, you've seen the Palazzo Budini-Gattai. A red brick building with three floors, it was constructed in the 16th century by the Grifoni family and eventually came under the ownership of the Budini-Gattai family.
The legend attached to this place is in the far right window on the top floor. It's always open, even when it rains, because the ghost of a noblewoman is still waiting for her husband to return from war. They had just married when he was called for battle. The young lady waited by the window so she could see him return. He never did. Heartbroken, the woman became attached to the room and the window until she died. When the shutters were finally closed, an unnatural force moved the furniture and threw books off the shelves. The chaos didn't stop until relatives reopened the window. And so it has stayed open, never to close, lest someone wants to risk angering the ghost.
Located in Piazza Santissima Annunziata, on Via dei Servi, 51.
2. Pensione Burchianti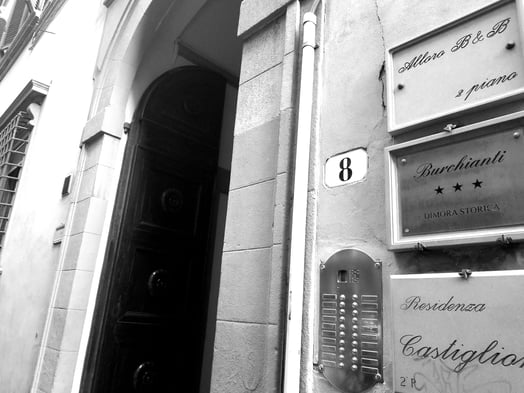 Located less than a 10-minute walk from the Duomo, the Santa Maria Novella train station and the basilica it is named after, Pensione Burchianti is a 3-star hotel that is situated perfectly for tourists. Open since 1919, the hotel has garnered a quality reputation for housing celebrities, politicians, and poets over the years. (Including an alleged visit by Fascist dictator Benito Mussolini.)
However, guests might find themselves not the only ones residing in their suites. The reports of unexplained events include paranormal stories of patrons hearing children skip down the hallways, feeling watched, shivering from icy cold breath on their faces, and sensing the mattress dip as if someone was sitting on it. If that doesn't scare you, there is also the Fresco Room where people have seen a pink, translucent figure. The owner of the hotel refuses to stay overnight. So if you're brave enough to do it, make sure to record your stay. You might capture something!
Located on Via del Giglio, 8.
3. Palazzo Vecchio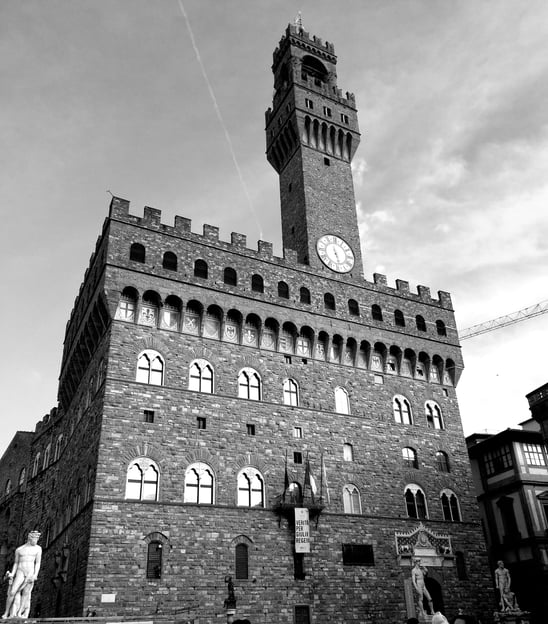 Find yourself wandering by one of Florence's most recognizable landmarks at night? Here are a couple words of advice: don't yell out Baldaccio d'Anghiari's name.
Palazzo Vecchio, and the Piazza della Signoria in general, have witnessed so much blood spilled on its pavement over the last 600 years. For example, the hanging and burning of Friar Girolamo Savonarola in 1498 is an event that is commemorated in a plaque positioned on the exact place where he was executed.
But did you know the violent tale of the mercenary Baldaccio d'Anghiari? In 1441, he was wrongly accused of treason and killed in the Palazzo Vecchio. His body was thrown out of a window and dragged across the Piazza, where his severed head was put on display. It's now said that his ghost roams the premises of the Palazzo; sounds of footsteps can be heard when it closes for the day and all the tourists have left.
Don't yell his name and avoid saying it out loud for no reason. If you decide to address him, you must speak respectfully in a low voice.
Located in Piazza della Signoria.
Opening hours 9am-7pm Monday-Sunday, 9am-2 pm on Thursdays.
---
Intrigued by these Florence ghost stories? Do you have any international ghost stories of your own? Share this post on social media with #CISghoststories and regale us with your ghostly encounters!
Want to make sure we see it? Tag us @CISabroad on Insta and Snapchat | @CISstudyabroad on FB